Jurassic World: Dominion Dominates Fandom Wikis - The Loop
Play Sound
Ruth Bridgers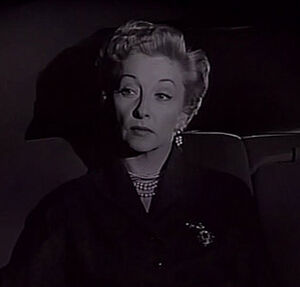 Ruth Bridgers is one of the guests at Frederick Loren's party at The House on Haunted Hill.
Biography
[
]
Ruth was a journalist who had her own newspaper column, and was desperate for money after having apparently lost much money due to gambling. When Frederick Loren invited Ruth to his party at The House on Haunted Hill with a reward of $10,000 if she stayed the entire night, she accepted.
Ruth is driven to the House on Haunted Hill in a funeral car with the other four guests. They arrive at the house and go inside, where Loren meets them and has guest Watson Pritchard take them on a tour of the house. Loren explains that at midnight, the caretakers of the house will leave and lock all doors and windows, trapping the guests until morning.
During the tour, blood drips from an old stain on the ceiling onto Ruth's hand. Pritchard is worried that the ghosts of the house have marked her, but Ruth believes that it is coincidence. Several other mysterious events happen to the other guests, including Lance mysteriously hitting his head and Nora seeing a supposed ghost. Shortly before midnight, Loren calls Ruth and the other guests to the living room and gives them the choice to either leave at once with the Slydes, or stay locked in the house for the night. But before Ruth or any of the other guests can choose, the Slydes leave early, locking them all in for the night.
After Frederick's wife Annabelle seemingly hangs herself, Dr. Trent decides to have a meeting between the guests about Annabelle's death. Loren and Trent believe that Annabelle was actually murdered, and the guests ultimately decide to retire to their rooms for the night. While Ruth is in her room, blood drips onto her hand again from the ceiling, leaving her very fearful.
Nora later gets Ruth and Pritchard after she shoots Mr. Loren. They find Lance trapped behind a moving wall and free him, then go down into the cellar to find Loren alive. He reveals to Ruth and the guests that Trent and Annabelle were conspiring to get him killed, then goes upstairs. Just when Ruth and the others believe the horror is over, Pritchard proclaims that Trent and Annabelle have joined the ghosts of the house, and that they will soon come for them.